Advantages of Hip Resurfacing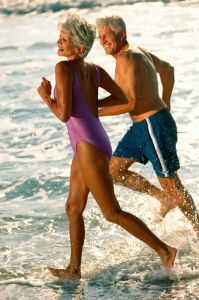 The advantages of hip resurfacing over traditional total hip replacements is an area of controversy among orthopaedic surgeons. A great deal of research is currently being done on this topic.
Bone preserving

operation compare to hip replacement

Hip resurfacings may be easier to revise. Because the components (called implants) used in hip replacements and hip resurfacings are mechanical parts, they can — and do — wear out or loosen over time. This typically occurs between 10 and 20 years after the procedure, although implants may last longer or shorter periods of time. If an implant fails, an additional operation may be necessary. This second procedure is called a revision and it can be more complicated than the initial operation. Because hip resurfacing removes less bone from the femur (thighbone) than a traditional hip replacement, many surgeons believe it is easier to exchange implants that fail after hip resurfacing.
Decreased risk of hip dislocation. In hip resurfacing, the size of the ball is larger than in a traditional hip replacement, and it is closer to the size of the natural ball of your hip. Because of this, it may be harder to dislocate. This stance is controversial because several factors can affect the risk of dislocation, such as surgical approach, and the type and size of the implants used.
More normal walking pattern. Several studies have shown that walking patterns are more natural following hip resurfacing compared to traditional hip replacement. These differences in walking are quite subtle, however, and special instruments are needed to measure them.
Greater hip range of motion. Hip resurfacing patients are usually able to move their hips in a greater range of motion than total hip patients. However, certain total hip implants can achieve the same range of motion as hip resurfacings.
Candidates for Surgery
Unlike hip replacement, hip resurfacing is not suitable for all patients. Generally speaking, the best candidates for hip resurfacing are younger (less than 60), larger-framed patients (often, but not always male) with strong, healthy bone. Patients that are older, female, smaller-framed, with weaker or damaged bone are at higher risk of complications, such as femoral neck fracture.
A comprehensive evaluation by your orthopaedic surgeon will help you determine if you are a good candidate for hip resurfacing.